Fleet Information
Boeing 777:
The Boeing 777-200 is a long and ultra long-range wide-body airliner with a capacity of maximum 440 passengers produced by the American manufacturer Boeing Commercial Airplanes. We have 10 of these aircraft in two and three class configurations. The aircraft joined our fleet in 2003. 

Applied by fly-by-wire, an advanced technology glass flight deck with five liquid crystal displays and advanced and extremely powerful engines, the 777 makes your travel an ultimate experience on Europe, Australia, Northeast Asia and domestic routes. 

Number of Seats: 307 
Business: 25 
Deluxe: 54 
Economy: 228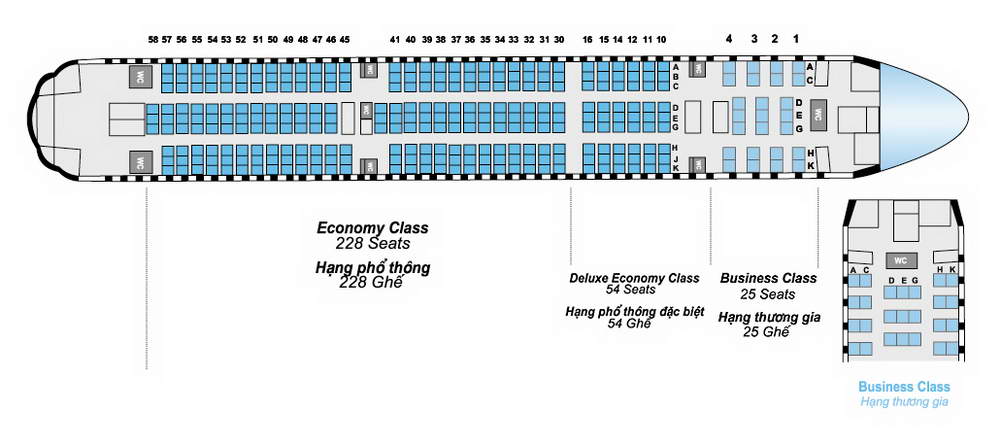 Airbus 330:
The A330-200 is the shorter-fuselage variant of Airbus' A330 twin-engine wide-body family, and has the versatility to cover all ranges from short-haul to true long-haul, with ideal sizing for point-to-point operations. We currently have more than twelve A330-200 aircrafts, with many more on order. 

It accommodates 253 passengers in a comfortable two-class cabin layout that provides more window and aisle seats in much quieter cabins. As a modern jetliner, the A330-200 serves on North East Asia, Middle East, Australia and domestic routes. 

A330-223: Number of Seats: 266, Business: 24, Economy: 242 
A330-322: Number of Seats: 320, Business: 36, Economy: 284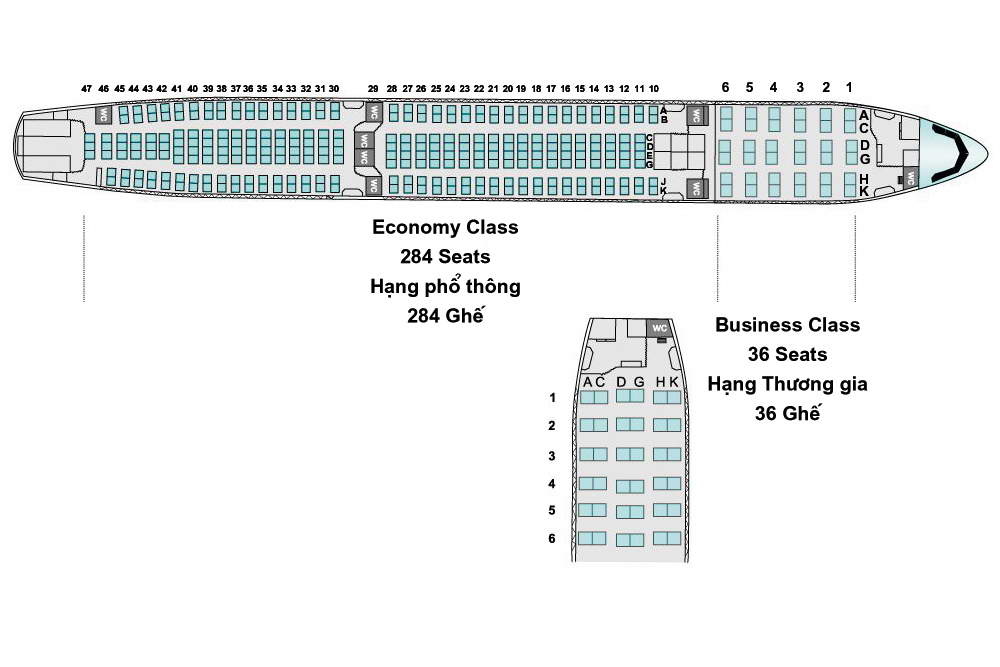 Airbus 320/321:
The A320/321 is the backbone of Vietnam Airlines. 

We took delivery of our first Airbus 320/321 in 2004, the aircraft quickly proved the manufacturers promise as being reliable, efficient and one that we will continue to invest in. As results, now have 82 of these aircrafts. Airbus 320/321 with seating capacity 150 ~184 offer widely around South East Asia and Hong Kong, China and domestic trunk and tourists routes. 

A320: Number of Seats: 162, Economy: 162 
A320: Number of Seats: 150, Business: 12, Economy: 138 
A321: Number of Seats: 184, Business: 16, Economy: 168
Fokker 70:
The Fokker 70 is a twin-engine regional airliner with a capacity of maximum 85 passengers produced by the Dutch manufacturer Fokker N.V . The new is one of the most technologically advanced aircraft in the world. Setting new standards in efficiency speed and comfort means that Vietnam Airlines can continue to offer a superior in-flight experience - and a smoother and easier journey. 

Number of Seats: 307 
Business: 25 
Deluxe: 54 
Economy: 228 
ATR 72:
The ATR 72-500, the latest development of the ATR 72, fully meets the customer requirements in a rapidly evolving market and is playing a major role in the growth of regional carriers. The ATR 72-500 has been used in passenger transport on its domestic routes since 1997. 

Number of Seats: 65 
Economy: 65 

Airbus 350-900:
The A350-900 is the cornerstone member of Airbus' all-new A350 XWB Family, which is tailored to meet airlines' future market requirements in medium-to-long haul operations. 

This jetliner accommodates 315 passengers in a two-class configuration, while offering unbeatable economics in high-density seating and true long-haul capability with a range of up to 7,750 nautical miles. We are looking forward to enhancing our fleet with the introduction of A350-900 in 2014.
Boeing 787:
Vietnam Airlines has a significant international route system, connecting Hanoi and Ho Chi Minh City to major world cities including Moscow, Paris, Beijing, Sydney and Melbourne, Seoul, Osaka, Tokyo, Taipei, Manila and many others. Thus, Vietnam Airlines fleet continues to be significantly modernized. We are incredibly excited by the imminent arrival of a further 60 or so new aircraft, including A350-900, A350-1000, B787-8 and B 787-9. These new aircraft will enable us to offer significant benefits in terms of safety, efficiency and passenger satisfaction.